Data
Information for Participants on Pension Insurance Data
Information on Pension Insurance Data (in German):
Contents
To date, the study has collected data on the following characteristics (information in German):
Contents of the lidA-Study (in German)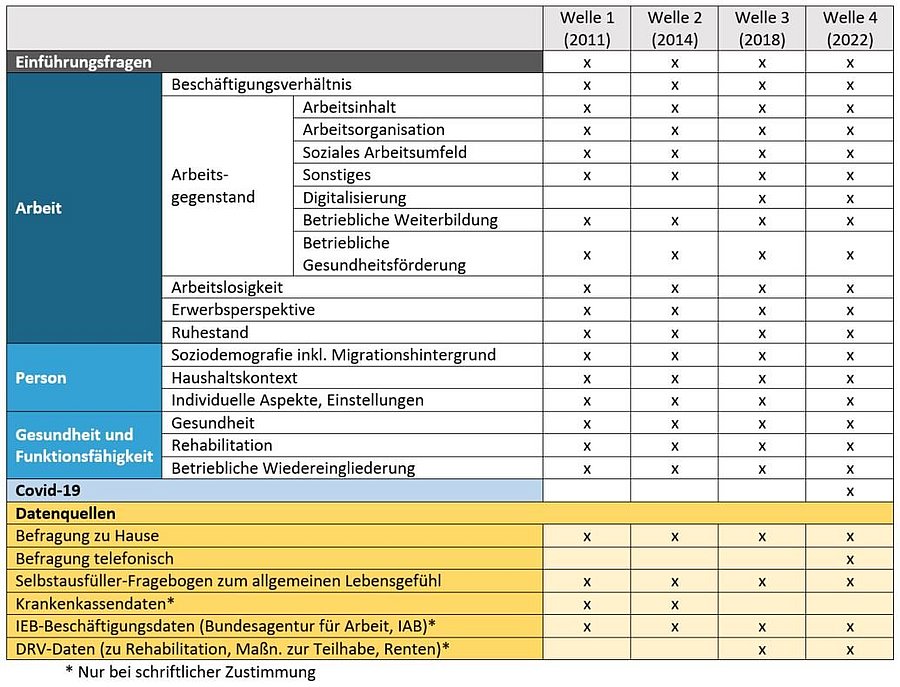 Method Reports (in German)
Data source
In all three lidA study waves (2011, 2014, 2018), participants were interviewed about their work and health in their own homes in a computer-assisted interview (CAPI). In the fourth wave (2022/23), due to the pandemic, the surveys were conducted either by a computer-assisted interview (CAPI) in their home or by a computer-assisted interview by phone (CAPI by phone). They also received a questionnaire about their current attitude towards life, which they could complete themselves. A hand grip test was additionally carried out in waves 1 and 2.
If the interviewee agreed, data linkage from external data sources was possible (see contents below). Each data source requires written consent.

- Individual administrative data from the German Federal Employment Agency was linked* in all waves.
- Individual data from the statutory pension insurance was included in waves 3 and 4*.
- Furthermore, data from the respective health insurances was linked* to the survey data on an individual basis in waves 1 and 2.
* In each case, only with written consent.
Availability of Scientific Use File
Survey data from wave 1 and 2 (reduced version without the individual data provided by Federal Employment Agency and by the health insurances) is available as a Scientific Use File for interested researchers at the Forschungsdatenzentrum FDZ (Research Data Centre) of the Federal Employment Agency of the IAB since 2016. For more information, please visit the FDZ website.